🎃
Let Your Family Excited For Halloween! The Perfect Treat-or-tricking!

🎃
The easy and perfect solution to decorate your home this Halloween!
Using a projector, these DVDs let you project scary scenes both indoors and outdoors on any surface. You can even use their projection screen material to make these projections look like they are coming out of thin air. You can also use your TV or monitor, but using a projector is what makes these scenes so realistic and creepy. Get ready for some scares.

The HALLOWEEN PROJECTOR decorations are perfect for Halloween decorating or Halloween parties. There are many DVDs to choose from including zombie invasion scenes, ghosts, phantasms, scenes that make your pumpkins come to life and many more.

HALLOWEEN PROJECTOR brings terror to Halloween and makes it real. The ghouls and ghosts that it creates are so real that you will swear you are really being haunted. These incredible Halloween holographic are going to scare trick or treaters as well as your neighbors for years to come.
 The holographic Halloween decorations by HALLOWEEN PROJECTOR also comes with extremely realistic audio that syncs up with the 

animations

 for an even scarier experience. 
Versatility
Perfect for Christmas and Halloween decorations.
Add some fun and spooky atmosphere to your home with the coolest and easiest to setup home décor! The 

Haunted Halloween Projector

 projects high-end and dazzling Halloween shorts right in your windows, creating a spooky effect when seen from the outside.
Leave your friends and neighbors in awe when you set this up to your window! Included in the package is a tripod to allow easy positioning, together with the device's built-in audio jack allowing you to accompany it with some scary tracks! Also great for the Christmas season!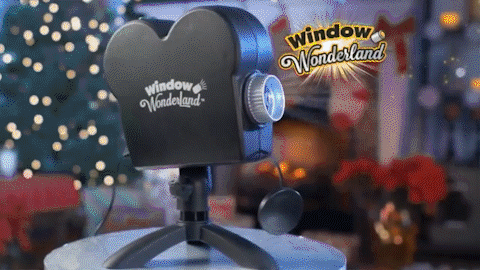 KEY FEATURES
🎃Projects high-end optical projection screen videos to the included from within your home.
🎃Display stunning holiday movies in your window!
🎃It is the coolest and easiest way to decorate your home.
🎃with a tripod, easy to use and set up.
🎃A built-in audio jack gives you the option to connect external speakers (not included) to include sound with your videos.
🎃Window Full-color movie projector plays movies anywhere.
🎃Perfect for Christmas and Halloween decorations.
PACKAGE INCLUDED:
1 x Halloween Holographic Window Projector
1 x Tripod
1 x Charger
1 x Package Box
1 x Projection Screen
12 Halloween/Christmas Videos
What Are Your Delivery Cost/Rates?
We are proud to offer free worldwide shipping on all orders.
What Countries Do You Ship To?
We ship worldwide.
Do You Process Orders During Weekends & Holidays?
Sorry! Our warehouses are closed during weekends and Public Holidays, therefore, your orders will be processed on the next working day.
How Do I Track My Order?
Once your order has been dispatched from our warehouse, you will receive an email from us with your tracking number. You will usually get your shipping notification email with 3-5 business days ( In peak periods please allow for up to 7 business days for dispatch.) of placing your order.
You can track your order at www.17track.net
If you can't track your order, please don't hesitate to contact us! We are here to help!
Can I Update My Delivery Address After Placing The Order?
Typically, we are unable to edit your shipping address once your order has been processed. You may expect a shipping confirmation email within the next 24 hours! Be sure to check your junk/spam mail as it may have ended there as well.
How Soon Will I Get My Package?
Typically, it takes 3-5 business days (In peak periods please allow for up to 7 business days for dispatch) for your order to be processed so you may expect a shipping confirmation email within that time frame! Be sure to check your junk/spam mail in case you can't find it. Below are the standard delivery times:
The United States : 10-15 business days
Worldwide (Exclude United States) : 18-30 business days
Note: All shipping times exclude clearance/customs delays. In some rare cases this can cause shipping to take up to 40-50 days.
How Do I Track My Package?
You are so close to receiving your order! Once your order is shipped out, you will receive a shipping confirmation email with a tracking number that you can use to follow your package's journey to you.
You can also track your order here using either your tracking number we provided!

If you didn't receive the Shipping Confirmation email, please contact us so we can help you out.